RABBI NORMAN LAMM ADDRESSES "LEARNING VS. KNOWING: WHICH TAKES PRECEDENCE?"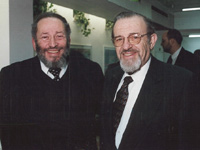 On Thursday evening, January 25, 2001, over 120 Jewish educators, communal leaders, and other interested parties gathered to meet with Rabbi Dr. Norman Lamm, President and Rosh Yeshiva of New York's Yeshiva University, who delivered a presentation on "Learning vs. Knowing: Which Takes Precedence?"
The evening, which examined the process of Torah study versus the acquisition of sacred knowledge, was sponsored by ATID-The Academy for Torah Initiatives and Directions in Jewish Education.
Rabbi Lamm emphasized that the Jewish concept of education stresses the process, and not merely the end result. Acquiring knowledge of Torah, certainly so that ritual might be properly practiced, is indeed crucial, Lamm stated, but instilling our children and students with the passion for learning itself is of paramount importance, as the latter will necessarily culminate with the former.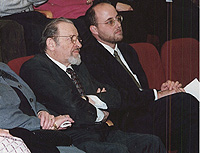 Contrasting the classical Jewish viewpoint with the Greek (and indeed, the contemporary Western approach) Rabbi Lamm charged the teachers in his audience to work toward drawing our students into the great dialogue with Torah texts and ideas which can truly engage and inspire young minds.
The Forum for Inquiry and Deliberation in Education serves as a home for the broad audience of Jewish educators and communal leaders to meet on an occasional basis to discuss critical issues facing our community from an educational perspective. The Forum, which is open to the wide audience of Jewish educators and communal leadership serves as the production ground of published and web-based materials, which impact on Jewish educators and help generate a communal-wide conversation on the issues.

Jerusalem Post (February 2, 2001)
Rabbi Dr. Norman Lamm was born in Brooklyn, NY in 1927 and received his elementary and high school education at the Yeshiva and Mesivta Torah Vodaath. In 1945, he entered Yeshiva College where he continued his Jewish learning and undertook a liberal arts program with a major in chemistry. He graduated summa cum laude in 1949 and was class valedictorian. Upon graduation, Dr. Lamm pursued advanced scientific studies at Polytechnic Institute of Brooklyn while continuing his Judaic studies and rabbinic scholarship at Yeshiva. He was ordained as a rabbi by YU's affiliated Rabbi Isaac Elchanan Theological Seminary in 1951, and earned a Ph.D. in Jewish philosophy from the University's Bernard Revel Graduate School in 1966.
During the 17 years preceding his election as president, Dr. Lamm served on the Yeshiva University faculty, culminating in his appointment as the Erna and Jakob Michael professor of Jewish Philosophy in 1966. He has also been spiritual leader of The Jewish Center in Manhattan.
Dr. Lamm has gained wide recognition for his writings and discourses on interpretation of Jewish philosophy and law in relation to problems involving science, technology, and philosophy in the modern world. His major work, Torah Lishmah, published in 1972 and updated in 1989, deals with the religious philosophy of Hasidim and their opponents, the Mitnaggedim, in eighteenth and nineteenth century. Torah Umadda, published in 1990, explores Yeshiva University's cornerstone: the integration of Torah learning and secular knowledge. In 1991, Dr. Lamm received the Rabbi Y.L. HaKohen Memorial Award for Torah Research and Literature for his book in Hebrew Halakhot ve'Halikhot (Jewish Law and the Legacy of Judaism: Essays and Inquiries in Jewish Law), which was published the previous year. Other works by Dr. Lamm include: The Royal Reach: Discourses on the Jewish Tradition and the World Today (1970), Faith and Doubt (1971), A Hedge of Roses: Jewish Insights into Marriage and Married Life (1966), and The Good Society: Jewish Ethics in Action (1974). He has also edited or co-edited over twenty volumes, including The Library of Jewish Law and Ethics, and written a great number of articles that have appeared in magazines, journals, and the Encyclopedia Judaica Yearbook. He was the founder and first editor of Tradition and associate editor of Hadarom, a journal of Jewish Law.
Dr. Lamm is married to the former Mindella Mehler. They have four children and sixteen grandchildren. Dr. and Mrs. Lamm reside on Manhattan's West Side.
For some recent speeches given by Rabbi Lamm,

click here.
For some recent articles written by Rabbi Lamm,

click here.