The Human Spirit: Synthesizing past and present
Barbara Sofer, THE JERUSALEM POST Jun. 22, 2007
Thomas Friedman's gratifying essay "Israel Discovers Oil," which ran in the New York Times section of The Jerusalem Post (June 18), was widely circulated by pro-Israel e-mail lists. Friedman had discovered oil wells in Beersheba. Not secret oil rigs in the desert capital. Friedman was referring to "the ecosystem of young innovators" whom he'd met at an end-of-the-year display of the biomedical engineering, software, electrical engineering and computing projects being developed by Ben-Gurion University students.
In Friedman's world view, there was good reason for optimism in this tiny country which, outside of the United States, has produced the most companies listed on the NASDAQ. Combine the creativity of those engineering students with venture capital, and voila, you get the edge a country needs.
The real competition, Friedman claims, is "between you and your own imagination." My favorite part of the essay lauds our culture, which "nurtures and rewards individual imagination - one with no respect for limits of hierarchies or fear of failure." Friedman didn't elucidate what he meant by that "culture," and some may credit irreverent, argumentative sabra brashness as the source of our resourcefulness and abilities of quick improvisation. Others will look back further and claim that the source of creativity comes from the Jewish study tradition. In the Beit Midrash, the Jewish study hall where arguments over meaning proliferate, well-based but inventive explanations trump rote memorization. But today the roads to the yeshiva and the laboratory are unlikely to cross.
I COULDN'T help thinking of Friedman's essay at a celebratory dinner to mark 40 years of Rabbi Chaim Brovender teaching Torah in Israel. The word "creativity" kept surfacing, mostly as student after student showered praise on the various study halls presided over - often from the back of a room at a desk himself - by the Brooklyn-born Rabbi Chaim Brovender.
He moved to Israel before the Six Day War and delivered mail on a motor scooter. He served in the IDF. After the Six Day War, the young Yeshiva University graduate and graduate student in Semitic languages at Hebrew University, began opening the world of Jewish literacy to college graduates arriving from abroad. The typical Brovender students had Ivy League degrees, but they couldn't tell you why the menora in the Temple had seven branches and a Hanukkah menora had eight. Rabbi Brovender directed them to Torah study and developed a successful method for imparting the tools they would need to decode the primary sources of the Jewish people. He guided them through life choices with his mix of straight talk and criticism-deflecting humor. Because his credo was that everyone should study Torah, that meant women, too. So he started groundbreaking women's study centers in Jerusalem, including classes in Talmud. A learned friend confided that she had known that "Brovender's" was synonym for advanced Torah education for women before she knew that there was indeed a Chaim Brovender behind it all.
THE YESHIVOT had different names - Hartman's, Shapell's, Yeshivat Hamivtar, Bruria, Midreshet Lindenbaum - but wherever they were, what made his study programs especially attractive was Rabbi Brovender's respect for the individualism of each student. He wouldn't have been proud if the Harvard medical student or the Bennington poet had abandoned their secular studies. Just the opposite. He hoped that the special skills, talents and knowledge of those educated in the secular world could now be brought into the religious world and would enrich it, just as the Torah world would enrich those who embraced it in the secular world.
Too many of the newly observant were overwhelmed by the pressure to conform to the norms of the more extreme Orthodox world in which their own education was devalued. They could make it right by becoming soldiers in an army dedicated to producing a new generation that would be authentically religious.
Bringing up observant children and choosing the right school for them is indeed harder for those who haven't themselves grown up within a religious world. In many ways, an insular school system of extreme religious homogeneity might seem as if it would be a safer choice in perpetuating new religious values. That almost certainly removes your children, no matter how smart, from being part of the "ecosystem of young inventors," the "room buzzing with student innovators" that Tom Friedman described in Beersheba. On the other hand, we aren't building the Jewish State only to be another Silicon Valley. We also want to reflect Mount Sinai.
FROM THE talk over canapés at the celebratory dinner last week, it seemed that most of the attendees were trying to shepherd their children through the complex world where they would have the ability and desire to read both a page of Talmud and an academic journal. That's unusual for a community that is largely composed of those who became observant as adults.
They felt empowered to do this by Rabbi Brovender, who aimed at his students synthesizing past and present rather than abandoning either.
My husband and I are among the many who owe a debt of gratitude to Rabbi Chaim Brovender for our love of Torah. We hope we've passed on his values to our children. On the day that Thomas Friedman visited Ben-Gurion University, one of our children who manages to keep up with the daily page of Talmud was there, too. In the oil well category. May they gush on.
© 2007 The Jerusalem Post. All rights reserved.
---

Learning Experience
Though he recently left his position as head of Yeshivat Hamivtar, Rabbi Chaim Brovender says his career is far from over. Now he has set his sights on the Internet.
by AMIHAI ZIPPOR
Friday, July 6, 2007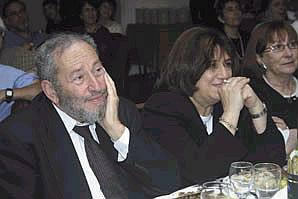 On the night of October 5, 2000, at the outset of the second intifada, Rabbi Chaim Brovender, the founder of Yeshivat Hamivtar in Efrat, was traveling along the Tunnel Road connecting Gush Etzion with Jerusalem when a crowd of Arabs from Beit Jala stopped him. After being pulled from his car and severely beaten, he was taken to a Palestinian police station in Bethlehem, where he was further harassed before being thankfully transferred to the IDF alive.
During his subsequent hospitalization and recovery, which took several months, many people, his wife Miriam recalls, asked him what he thought of the incident. "'I'm just a part of Jewish history,' he would say."
Brovender's part in that history saw him become one of the most influential rabbis in contemporary Torah education.
Nearly seven years after his assault and 40 years since his yeshiva was established, Brovender has left Yeshivat Hamivtar, following a disagreement with its parent organization, Ohr Torah Stone. The departure comes 20 years after Yeshivat Hamivtar and Michlelet Bruriah (now known as Midreshet Lindenbaum), the women's seminary he founded, merged with Ohr Torah Stone.
Although Brovender clearly misses his students and fellow staff, he is at peace with the decision. "I always try to teach people that you can disagree with each other and in fact disagreement is healthy. It's a good sign. A sign you're thinking," he tells In Jerusalem with a smile.
"I'm very hopeful that I will continue to be able to do good things that will be advantageous for the community that is interested in learning Torah."
In Jerusalem spoke with Brovender at his Mattersdorf home to discuss his career, and issues he brought to the forefront of Orthodoxy, such as women's Torah study.
Born in 1941 in Brooklyn, Brovender attended Flatbush Yeshiva, a coeducational modern Orthodox day school. He later graduated from Yeshiva University, where he earned a BA in mathematics and received rabbinical ordination from "the Rav," Rabbi Yosef Dov Soloveitchik. In 1965 he and his wife made aliya and settled in Jerusalem, where they raised six children, who have since added 20 grandchildren to the family circle.
Brovender, who later completed a doctorate in Semitic languages from the Hebrew University in 1974, had hopes of working in academia. But fate, it seems, had other plans for him.
Unsure that his math degree would secure him a job in Israel, Brovender took the advice of an acquaintance, who suggested he study at a local kollel called the Israel Torah Research Institute (ITRI). Although Brovender was a student of Soloveitchik and had great respect for Torah study, he hadn't planned to make yeshiva learning his life's path.
"I wanted to be an academic because I heard they work two days a week, six hours a day and eight months a year, and coming from Brooklyn I could not imagine a better deal," he quipped at a recent dinner to celebrate his career.
However, after he arrived at ITRI, a yeshiva with a strong Lithuanian mind-set that emphasized Talmudic learning, and saw men learning Torah at a caliber he had never seen before, he was intrigued and decided to temporarily join the kollel.
"When I came to ITRI I rode a motorbike and I used to show up wearing sandals with no socks. I had no jacket, and I had a metal motorcycle helmet," Brovender smiles.
ITRI, he knew, adhered to the custom of wearing a hat over a kippa when praying, but when it came time for the afternoon Minha prayer he didn't think it would be appropriate to put on his helmet.
"The men in the kollel came over to me like a committee and said you can't daven [pray] Minha without socks, a jacket and a hat," he said.
After several more minutes of nagging him to dress appropriately for Mincha, Brovender recalls, he looked at his fellow avrechim (married scholars) and said: "Look, I can't do it all but pick one out of three" and they settled on a jacket.
Eventually with the jacket came the socks and a hat and during that first year-and-a-half at ITRI, its rosh yeshiva, Rabbi Mordechai Elefant, quickly recognized Brovender for his brilliance.
In 1967 Elefant convinced Brovender to do what he had never thought of doing: To open an English-speaking program to teach Torah to university students, backpackers and other curious souls who in the wake of the Six Day War had begun streaming into Jerusalem.
Though Brovender was still hesitant to commit and reminded his rosh yeshiva that he was part of academia, he went ahead with the program, which was the beginning of the yeshiva that later took the name Hamivtar.
Dore Gold, a former student and former Israel ambassador to the UN, believes Brovender was the right person at the right moment in Jewish history to undertake such a Torah study program.
"At that time, there was a quest by Jews to return to their sources, and Brovender began going from campus to campus speaking about his yeshiva's unique ability to teach young, curious minds to be able to read a daf [page] of Gemara. Rather than being connected to Judaism through ceremony alone and feeling somewhat disquieted that you had no basic knowledge of it, he offered the keys to the kingdom," Gold says.
"I think of Rabbi Brovender as someone who has been a key to the revival of the Jewish people today... by returning to the study of sources."
The ITRI program for English-speaking men soon became a full-fledged yeshiva, first known as Hartmans and then as Shapells. In 1976 Brovender, who describes himself as "too far to the Left for the guys on the Right and too far to the Right for the guys on the Left," ultimately broke off from Shapells, and moved his yeshiva to Givat Hamivtar. "When I left ITRI it was because I was too Zionist and too academic to be in such a strongly associated Lithuanian yeshiva, which is what ITRI wanted to be. I had also started teaching women Talmud, which was not held in high esteem by the administration at ITRI. They thought about it but they decided I was too old to be retrained," Brovender says.
ACADEMIA ASIDE, it was the women's program, specifically its Talmud track, that generated the biggest debate among ITRI's elite, and was innovative in the Orthodox world. But for Brovender, having attended a coeducational secondary school, "it never occurred to me that women couldn't learn Talmud."
"The women who came to the ITRI program had the inclination and so I followed what I knew. I wasn't prepared to accept a particular mystical notion that for some reason woman can't do it," he explains."I think they intuitively knew that this was an important part of their development and that they wanted to advance as religious people, to be able to 'approach' God better."
After locating an apartment on Rehov Aza and finding teachers, the women's Torah study program, then called Bruriah, began.
Tamar Ross, a professor of philosophy at Bar-Ilan University and a longtime educator at Midreshet Lindenbaum, sees the split from ITRI as a turning point in women's Torah learning.
"It developed the whole movement of seminaries for women and established the legitimacy of their unlimited freedom in their ability to learn Torah She-Be'al Pe [Oral Torah]," she says, referring to the sections of Torah that for so many years were off-limits to women.
Former Bruriah Scholar Rahel Berkovits wholly agrees and appreciates the courage it took for Brovender to initiate such a program since at the time there was no other place for women to receive a sophisticated Torah education.
"I think the Jewish people have been made better due to the fact that [the other] half of the population can take Torah learning to its highest level," she says. "Today people call it 'Brovenders' but they forget what it was like when our mothers and grandmothers didn't have the opportunity to learn."
"The entire face of modern Orthodoxy has been changed because women can learn in a serious way and that's because of Rabbi Brovender."
Practically speaking, Rabbi Brovender believes the program's success was due in part to the fact it had never been tried before.
"It was just a market that no one else had explored yet and the women did not have a plan, weren't learning for smicha [rabbinical ordination], and weren't learning for some advanced degree. They just wanted to be let in and I tried to open the door," he says.
"When it comes to women's learning you have to do it out of a sense that it is the right thing to do and understand the issues involved."
THE ISSUE of remaining in the bounds of Halacha is often discussed when dealing with outreach programs or places of mixed learning. Brovender is insistent that when dealing with such matters a person has to be knowledgeable, understanding, and get good halachic direction to determine "how far off the deep end one can go."
"There are tactical questions and there's a question of where people come from, what they've been doing. Take Mea She'arim - there you'll find a falafel stand with two lines, one for men and one for women, and that makes sense because these are people who are very careful not to mix the sexes in whatever they do," he says.
"But there are other kinds of worlds that Jews live in and if you want to attract somebody you have to go to the place that he happens to be in as long as it does not contradict Halacha."
Unlike other yeshivot and midrashot, students in the Brovender enterprise were not told what to do or pressured to be a certain way because it was Brovender's personal belief that any attempt to "make" someone religious would ultimately fail if it didn't rest on something authentic. Instead, Brovender integrates humor and cleverness in his teaching, while focusing on the text.
While characterizing himself as "not the best rosh yeshiva but certainly the funniest," many of Brovender's former students will note that whether in the classroom, outside it, or in dealing with life's most difficult moments, he never substitutes humor for content.
AFTER ALL Brovender has set into motion, he is critical of the lack of Jewish learning nowadays, saying that it seems to him that both men and women are content, more than in previous years, with not knowing much about Judaism. "People today find greater solace in the fact that they clearly define themselves as part of a certain community, granted they don't know how to learn Torah very well or don't know how to get involved with a particular textual issue. It doesn't seem to bother them that much," he says.
Even though it is said there are more people learning Torah today than ever, Brovender believes this statistic is "mostly in the haredi, or yehivish [Lithuanian] or hassidic worlds," which is only a small percentage of the Jewish population.
For him this trend translates into religious neighborhoods in Israel being too insular, which, he says, was not true years ago when secular people could comfortably walk into religious areas.
"Unlike then, today most buildings that are built for religious Jews, whatever kind they think they are, are in neighborhoods where everybody is that kind of religious Jew, and therefore, I think we in general become more oppressive to those who are outside," he says.
"When I first came to Israel," he recalls, "if you walked through Kiryat Moshe where I lived, there was this kind of person, and that kind of person and if you walked across the neighborhood and had a ponytail or sandals or shorts, you didn't feel like you were from a different world."
BROVENDER PLANS to continue teaching Torah through the Academy for Torah Initiatives and Directions in Jewish Education (ATID), an organization he co-founded 10 years ago whose aim is "to train the future leadership of Jewish education and... deal with the crucial issues facing the field."
The institute also acts as a forum to advance Brovender's longstanding interest in finding a place for the arts within Torah education.
In recognition of Brovender's 40 years of service in the field of Jewish education, ATID recently sponsored an evening at the Dan Pearl Hotel in his honor, which was attended by nearly 400 guests, many of them former students who are now educators themselves or hold esteemed positions in educational and political institutions.
Brovender announced at the dinner that through ATID he plans to open a first-of-its-kind online yeshiva, which will use the latest technology to simulate the workings of a regular yeshiva-learning environment on the Internet.
"Technology just provides an opportunity to teach people you would otherwise not be able to teach. It's not about proving something through technology. I'm just trying to find a way to teach students who might not otherwise have an opportunity to learn."
"And if they are in a place that is somewhat godforsaken and they have a will and desire to learn Torah, this will make it possible," he says.