Click here to apply to the ATID Fellows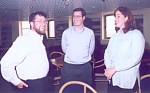 The ATID Fellowship is comprised of a select group of young men and women who have shown early promise of taking a role in educational leadership. Fellows participate in Friday seminars in Jerusalem on a select topic, delivered by renowned senior educators from Israel and the Diaspora. Each Fellow works on a field of specific research of his or her choice (subject to faculty approval), and benefits from numerous hours of private tutorial with a senior mentor who guides the research and the Fellow's personal inquiry. Fellows are given broad latitude to explore areas of research, given that they can demonstrate the importance to themselves and the community. The research projects and papers are presented at a symposium at the end of the year, and published in a special volume.
The best and brightest in Modern Orthodoxy, the Fellows will surely assume leadership roles in the Jewish community in Israel and the Diaspora.
Fellows emerge with…
The ability to act as reflective practitioners in their craft - mining the world of educational theory in a way that enriches and deepens their practice.
Personal and professional relationships with senior educators that will serve them throughout their careers.
A sophisticated understanding of and approach to major issues facing Jewish education and the Jewish community.
Sharpened understanding of their own professional goals, and the means necessary to achieve them.
Outstanding collegial relationships with other educators and communal leaders from around the globe.
A unique model of training
ATID strives to prepare its participants through a unique formula - the intense encounter with the deep ideas that should be shaping and driving Jewish education, a meaningful personal journey guided by those ideas, and the benefit of group deliberations with peers and mentors.

Our experience has shown that young educators (in particular) often suffer from a sense of being overwhelmed with the pressures of beginning a career, preparing lessons, learning through trial-&-error, etc., that they are unable (even if convinced of the value) to engage in the deep examination of the theory behind their craft that can and should be enriching their practice. Sadly, many of our schools neither value nor provide for such inquiry (either in a community-wide, school-wide, or even personal basis). Among our goals is to enable and guide promising young educators to engage in such deliberation—both individually and as a group—under the guidance of senior educators who serve as consultants to ATID and as mentors to the individual participants. The financial stipend ATID provides to each Fellow allows them to find the time dedicate serious thought and research to these important issues, and to dedicate more of their limited resources and hours toward personal and professional growth.