ATUDA:
ATID's Discussion and Research Forum for Future Jewish Educators
ATID has gathered a cohort of young Orthodox students (post-B.A.), men and women, who are planning to enter Jewish education as a career in the coming years, as the inaugural Atuda Fellows - a new training program for pre-service educators, to complement our ATID Fellows in-service program.
Participants in the 2004-05 program partake in evening seminars and discussion groups over the academic year. The sessions are dedicated in to:
"TRANSLATING" THE TORAH AND PHILOSOPHY OF
RABBI JOSEPH B. SOLOVEITCHIK zt"l
TO CONTEMPORARY JEWISH EDUCATION
and are conducted in cooperation with The Rabbi Joseph B. Soloveitchik Institute of Brookline, Mass.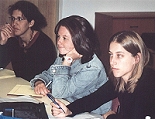 Atuda Fellows study and analyze texts written by and about Rabbi Soloveitchik, and prepare position papers and pedagogies to wrestle with the application of those teachings to the contemporary classroom. Fellows are be exposed to leading students of the Rav, and teachers of his thought and Torah. The program is directed by ATID's Rabbi Jeffrey Saks and Rabbi Reuven Ziegler, Director of Research for the Toras HoRav Foundation, and editor in chief of Yeshivat Har Etzion's Virtual Beit Midrash.
---
ATUDA Fellows
Machzor I
| | |
| --- | --- |
| | Naftali Balanson has a B.A. from Yeshiva University, is working toward an M.A. at Columbia and studying at Yeshivat Chovevei Torah. He is currently enrolled at Yeshivat Har Etzion. |
| | Shoshana Cohen is studying in Matan's Advanced Talmud Program and the Hebrew University. She has a BA from Brandeis University. |
| | Rachael Gelfman is studying at Machon Pardes. She has a B.A. from Harvard, is working toward an M.A. at the Hebrew University, and was a Bruria Scholar. |
| | Medinah Korn has an M.A. in Tanakh from Matan, where she serves as the librarian. |
| | Shoshanna Lockshin has a B.A. from the University of Toronto and is an intern at the New Israel Fund. |
| | Norma Mintz is studying at Matan's Advanced Tanakh Program and has an M.A. in education from Yeshiva University. |
| | Yaakov Mintz is studying at Yeshiva University's Gruss Kollel, and is completing an M.A. in Jewish education from Yeshiva University. |
| | Sara Henna Polen is studying at Machon Pardes. She has a B.A. from Stern College, is working toward an M.A. at the Hebrew University, and was a Bruria Scholar. |
| | Avi Roness is a research fellow at Beit Morasha, and is completing an M.A. at Touro College. |
| | Noam Shapiro is completing rabbinic studies at the Gruss Institute. He taught at the Frisch School. |
| | David Shyowitz is studying at Yeshivat Har Etzion. He has a B.A. from the University of Pennsylvania. |
| | Benjamin Zimmerman has learned in an array of yeshivot, most recently working toward ordination at the Gruss Institute of Yeshiva University. |