NOGA BEIT MIDRASH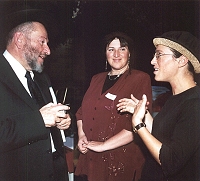 Noga teachers discuss program with Rabbi Brovender
School reform is a long and difficult process. For the most part, change is reactive, responding to immediate problems that require resolution, rather than pro-active: envisioning what ideal education might be.
Over the course of 2003-2004, a team of Senior ATID Fellows developed a position paper and proposal entitled "Beit Midrash as an Alternative High School." We at ATID are arguing that typical classroom education can be stifling and uninspiring, forcing a diverse student body to study the same material at the same pace and react to the same things. The model of the beit midrash, around which Torah education has been centered for centuries, allows students to pursue broad areas of interest with maximal intellectual freedom and independence. This model could combine with innovative thinking in the world of general education, and inspire a new kind of yeshiva high school program that would encourage students creativity and energy.
Was this program realistic? Would high school students be able to learn effectively and passionately in a beit midrash, without the confines and strictures of a traditional classroom? Could a school provide enough support for students, to allow them to thrive with so much independence and freedom? Would yeshiva high schools be prepared to try something so different from what they are used to?
As Rabbi Brovender kept reminding the ATID staff--drawing on his decades-long experience as founder of some of the most innovative educational initiatives in today's Torah world--the only way to answer those questions is to implement the program in practice. Build it, and success will attract imitators.
In the spring of 2004, ATID circulated a draft of this paper to select educators and thinkers. Several schools contacted us, suggesting that we work with them to start such a beit midrash within their school. ATID entered a partnership with the AMIT Noga School, an innovative girl's high school outside of Beit Shemesh, Israel. ATID's staff worked with Mrs. Miriam Reisler, one of Noga's most inventive and dedicated teachers, to begin the "Lehavah" track. Instead of jumping from formalized class to formalized class, select ninth and tenth grade students study their limudei kodesh in a beit midrash. Each student builds an individualized schedule, that combines havruta study, individual research projects, one-on-one meetings with staff, and uniquely designed classes which focus on enhancing students' individual learning skills.
This year, a group of ATID Fellows, under the direction of Dr. Yoel Finkelman, are working in partnership with the school, and teachers to implement and evaluate the program. We are concerned with fostering a support system that enables the students to gain independence, yet still retains the teacher as role-model and in a position of authority. By observing the beit midrash, and interviewing staff, students, and parents, ATID hopes to determine whether this program is meeting expectations. We hope to draw some conclusions about what is working, improve what what is not working, and distill lessons for implementation in other schools. A written account of this evaluation, to be published together with the position paper, can help other educators determine whether this program could enhance the Torah education of their students, and can provide a realistic picture of what resources are necessary to it elsewhere.
Initial results seem encouraging. As one student put it, in conversation with ATID's director, R. Jeffrey Saks, "It's great! I always used to be bored in limmudei kodesh. Now, I learn what I want at a faster pace. The teachers don't bother me; I bother them if I need help or if I have a question--and then I can go back to my own learning." Indeed, ATID has already heard from principals of other schools in Israel, who want assistance in developing a similar program in their schools.
To receive an electronic copy of the draft proposal (as a Word document), email ATID.